Catalogage
Before you start cataloging in Koha you're going to want to do some basic setup. Refer to the Implementation checklist for a full list of these things. Most importantly you're going to want to make sure that your MARC bibliographic frameworks are all defined the way you want. Once in the cataloging module you will not be able to add or remove fields and subfields so your frameworks must be ready before you start cataloging.
You can also use OCLC Connexion to send records directly in to Koha. For more information on that please review the OCLC Connexion Gateway setup Appendix.
Get there: More > Cataloging
Bibliographic records
In Koha the bibliographic record contains the main information related to the material. This includes things like the title, author, ISBN, etc. This information is stored in Koha in Marc (different flavors of Marc are supported in Koha). Once this information is saved, item records can be attached.
Item records
Chaque notice bibliographique Koha peut avoir un ou plusieurs exemplaires rattachés. Chaque exemplaire contient des informations de la copie physique que possède la bibliothèque.
Adding items
After saving a new bibliographic record, you will be redirected to a blank item record so that you can attach an item to the bibliographic record. You can also click "Add/Edit items" from the cataloging search results

or you can add new item at any time by clicking "New" on the bibliographic record and choosing "New item"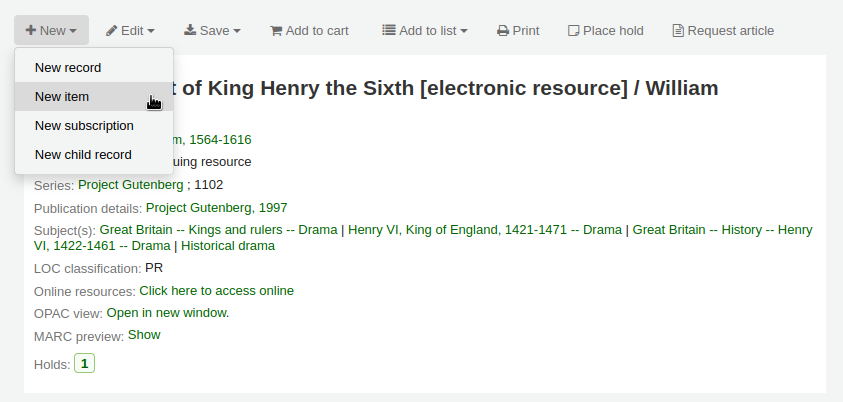 Le formulaire de modification de l'exemplaire va s'afficher: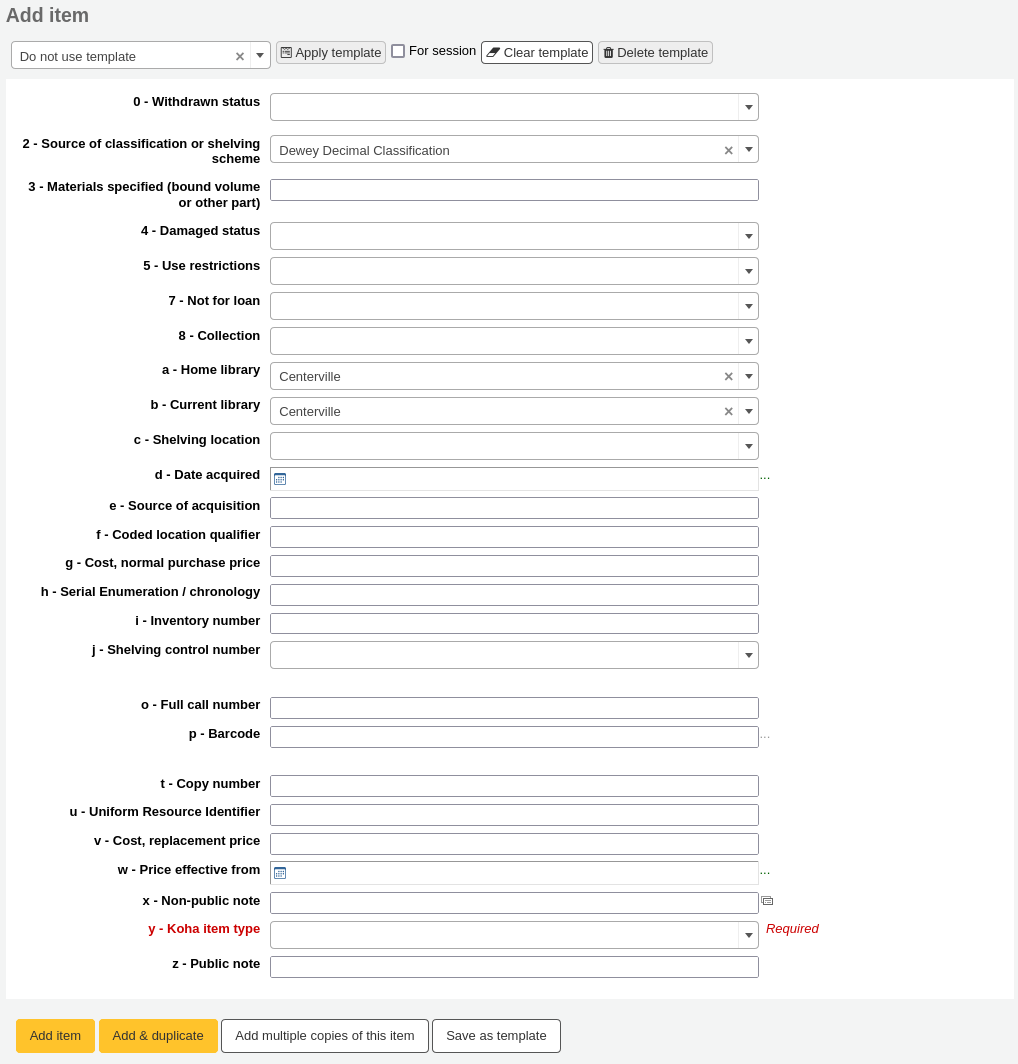 Au strict minimum, si vous prévoyez de faire des prêts, les champs suivants devraient être entrés pour les exemplaires :
2 - Source de classification

a - Localisation permanente

b- Site actuel

o - Cote complète

If you'd like you can use the call number browser plugin for this field. If it's enabled you'll see a … to the right of the field. When clicked that will open a call number browser window if the row is highlighted in Red then the call number is in use, if there is a thin Green line instead then the call number can be used.

p - Code à barres

v- Coût, prix de remplacement

Lorsqu'un document a été déclaré comme étant "Perdu", le prix de remplacement du document sera facturé aux adhérents

y- type de document Koha
To make sure that these values are filled in you can mark them as mandatory in the framework you're using and then they will appear in red with a "required" label. The item will not save until the required fields are filled in.

Note

To make item subfields required in a framework you'll want to edit the 952 field in the framework editor.
You can add a new authorized value directly from the add and edit item screen for any fields that are linked to authorized value categories such as Shelving location (subfield$c) or Collection code (subfield$8).
Start to type the authorised value description, if a match is not found you will see the option "(Select to create)".

Click on this option to display a pop-up window where you can create you new authorized value.

The authorized value category will be pre-populated from the field you are using, for example LOC for Shelving location, CCODE for Collection code. Take care when choosing your authorized value code. Refer to the notes on adding new authorized values for the correct format of these codes. Use the Description field for the actual value that will be displayed
You can add authorized values in the same way from bibliographic and authority records.
Note
You must have the manage_auth_values administration permission to add authorized values from cataloguing.
Below the add form there are 3 buttons for adding the item.

"Add item" will add just the one item

"Add & duplicate" will add the item and fill in a new form with the same values for you to alter

"Add multiple items" will ask how many items and will then add that number of items adding +1 to the barcode so each barcode is unique
Les exemplaires ajoutés apparaîtront au-dessus du formulaire d'ajout

Note

You can customize the columns of this table in the "Table settings" section of the Administration module (table id: Items Editor).
Vos exemplaires seront également affichés sous la notice bibliographique sur la page d'affichage détaillé.

If you have SpineLabelShowPrintOnBibDetails set to "Display" then there will also be a link to print a quick spine label next to each item.
Vous pouvez aussi filtrer le contenu du tableau en cliquant sur le lien "Activer les filtres". Il affichera alors une rangée en haut où vous pourrez filtrer les résultats dans la colonne que vous souhaitez.

Editing items
Les exemplaires peuvent être modifiés de plusieurs façons.
Clicking "Edit" and "Edit items" from the bibliographic record

Ceci ouvrira une liste d'exemplaires, où vous pourrez cliquer sur le bouton "Action" a la gauche de l'exemplaire spécifique que vous voulez éditer, et choisissez "Éditer"

Clicking "Edit items" beside the item on the "Items" tab

Ce qui ouvrira un tableau de l'exemplaire que vous pouvez modifier

En cliquant sur sur le bouton "Modifier" puis "Modifier les exemplaires par lot"

This will open up the batch item modification tool where you can edit all of the items on this record as a batch.

You can also enable StaffDetailItemSelection to have checkboxes appear to the left of each item on the detail display. You can then check off the items you would like to edit and click "Modify selected items" at the top of the list.

You can click "Edit" to the right of each item in the Holdings tab

There is also a link to Edit items from the search results in the staff client

Finally you can use the batch item modification tool
Quick item status updates
Souvent, le personnel qui gère la circulation a besoin de modifier l'état d'un exemplaire pour le déclarer Perdu ou Endommagé. Il n'y a pas besoin pour cela de modifier toutes les informations concernant l'exemplaire : un affichage synthétique est accessible en cliquant sur le code à barres de l'exemplaire dans la page d'affichage des retours ou dans l'historique des prêts. Vous pouvez aussi y accéder en cliquant sur l'onglet Exemplaire à gauche de la page affichant la notice bibliographique.
From this view you can mark an item lost by choosing a lost status from the pull down and clicking the "Set status" button.
You can also mark an item as damaged by choosing a damaged status from the pull down and clicking the "Set status" button.
Duplicating items
You can easily duplicate each item by clicking the "Actions" button the left of each item on the edit items screen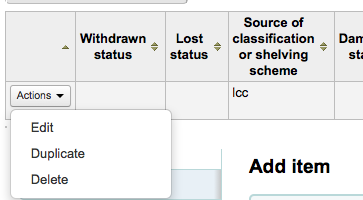 De là vous pouvez choisir ""Dupliquer"" l'exemplaire, et ceci rempliera le formulaire avec les valeurs de l'exemplaire que vous avez choisi.
Item information
A gauche de chaque notice bibliographique se trouve l'onglet Exemplaires pour visualiser les informations de l'exemplaire.
Cliquer sur cet onglet vous donnera des informations basiques sur les exemplaires telles que le site d'accueil, le type de document, le code de collection, la cote et le prix de remplacement. Vous pouvez aussi voir et modifier le statut. Si un exemplaire est marqué perdu ou retiré des collections, la date est à partir de laquelle le statut a été appliqué.
In the "History" section you will see information about the check out history of the item and if you ordered the item via the acquisitions module then this section will include information about the order.
Si vous cliquez sur la date de commande ou la date d'entrée dans les collections, cela vous redirigera sur les informations d'acquisition de l'exemplaire.
Adding cover images for items
If you have either OPACLocalCoverImages and/or LocalCoverImages set to 'Display' you can upload cover images for individual item records from the "Upload image" option from the Edit button on the right of the Holdings table.

Click Choose file to find the image file on your computer and then Upload file.
On the next screen you are given the option to replace existing images. You can then click on Process images.
The image will display in a Cover image column in the holdings display.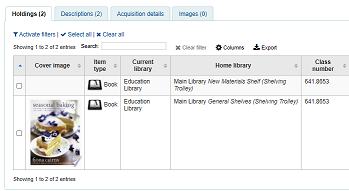 To delete an image, click on the image in the holdings display. You will see a greyed out copy of the image with the option to delete.

Moving items
Items can be moved from one bibliographic record to another using the "Attach item" option

Visit the bibliographic record you want to attach the item to and choose "Attach item" from the "Edit" menu.

Simply enter the barcode for the item you want to move and click "Submit"
If this is the last remaining item attached to a bibliographic record you will be presented with a button to delete the original host record.
If you want to move all items to a new record creating only one bibliographic record you can use the merge Records tool instead.
Deleting items
Il y a plusieurs façons de supprimer des exemplaires. Si vous avez besoin de supprimer un exemplaire, vous pouvez ouvrir la page de détail de sa notice bibliographique, puis cliquer sur le bouton Modifier. Là, vous choisissez l'option Modifier les exemplaires.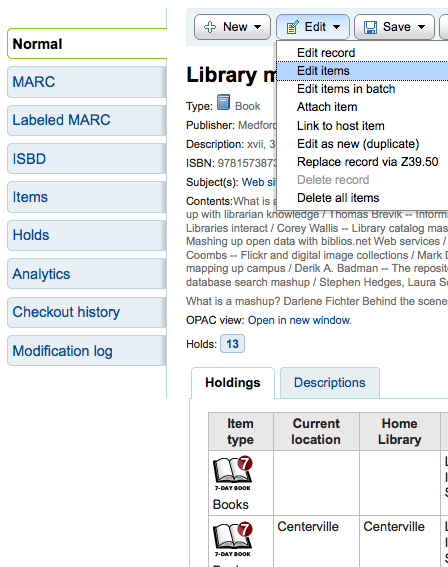 Une liste des exemplaires est affichées. A côté de chaque exemplaire, un lien Supprimer permet de supprimer l'exemplaire s'il n'est pas en prêt.

Si vous êtes sûr que tous les exemplaires attachés à votre notice ne sont pas actuellement en prêt, vous pouvez utiliser l'option "Supprimer tous les exemplaires" dans le menu "Modifier".
You can also enable StaffDetailItemSelection to have checkboxes appear to the left of each item on the detail display. You can then check off the items you would like to delete and click "Delete selected items" at the top of the list.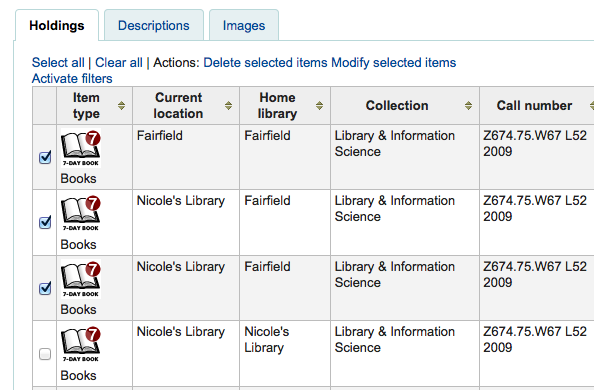 Finally you can use the batch delete tool to delete a batch of items.
Item specific circulation history
Chaque notice bibliographique conserve l'historique de ses opérations de circulation (avec ou sans les informations relatives aux adhérents selon votre paramétrage). Mais chaque exemplaire a également sa propre page d'historique. Pour voir celle-ci, cliquez sur l'onglet Exemplaires de la notice que vous êtes en train de visualiser.
Sous le titre Historique, il y a un lien Voir l'historique des prêtes des exemplaires. En cliquant ce lien, la page historique des exemplaires s'affiche. Elle est sensiblement différente de l'historique de la notice bibliographique.