Catalogação
Before you start cataloging in Koha you're going to want to do some basic setup. Refer to the Implementation checklist for a full list of these things. Most importantly you're going to want to make sure that your MARC bibliographic frameworks are all defined the way you want. Once in the cataloging module you will not be able to add or remove fields and subfields so your frameworks must be ready before you start cataloging.
You can also use OCLC Connexion to send records directly in to Koha. For more information on that please review the OCLC Connexion Gateway setup Appendix.
Get there: More > Cataloging
Bibliographic records
In Koha the bibliographic record contains the main information related to the material. This includes things like the title, author, ISBN, etc. This information is stored in Koha in Marc (different flavors of Marc are supported in Koha). Once this information is saved, item records can be attached.
Item records
In Koha each bibliographic record can have one or more items attached. These items are sometimes referred to as holdings. Each item includes information to the physical copy the library has.
Adding items
After saving a new bibliographic record, you will be redirected to a blank item record so that you can attach an item to the bibliographic record. You can also click 'Add/Edit items' from the cataloging search results

or you can add new item at any time by clicking 'New' on the bibliographic record and choosing 'New item'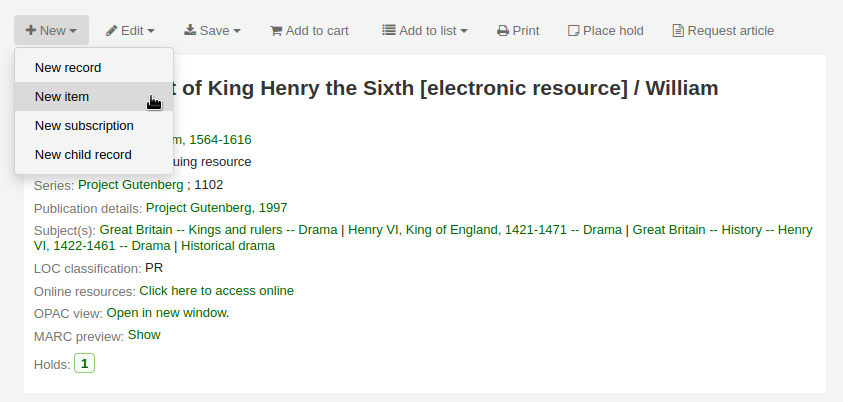 O formulário de edição do exemplar irá aparecer: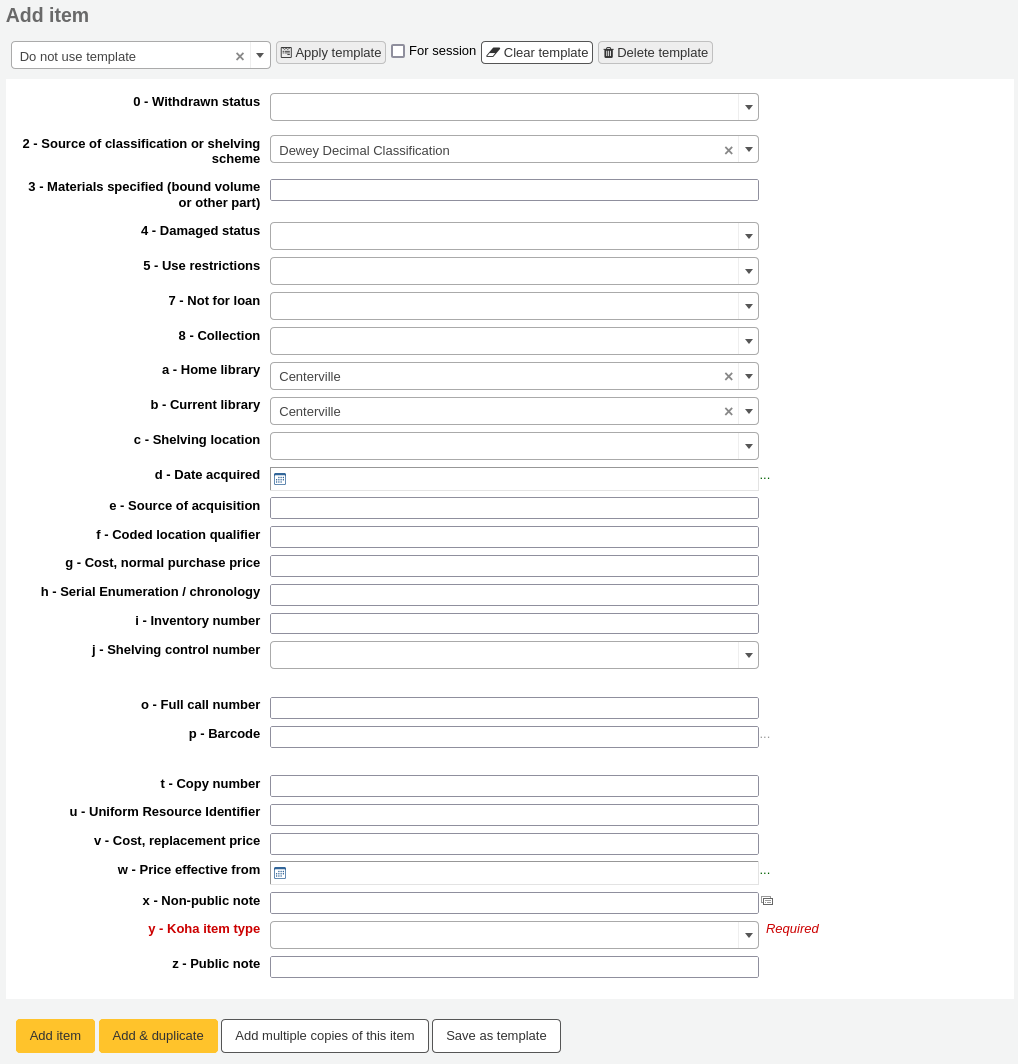 No mínino os seguintes campos devem ser preenchidos para novos materiais:
2 - Fonte de classificação

a - Localização permanente

b - Current location

o - Número de chamada completo

If you'd like you can use the call number browser plugin for this field. If it's enabled you'll see a … to the right of the field. When clicked that will open a call number browser window if the row is highlighted in Red then the call number is in use, if there is a thin Green line instead then the call number can be used.

p - Código de barras

v - Cost, replacement price

This value will be charged to patrons when you mark an item they have checked out as 'Lost'

y - Tipo de material do Koha
To make sure that these values are filled in you can mark them as mandatory in the framework you're using and then they will appear in red with a 'required' label. The item will not save until the required fields are filled in.

Note

To make item subfields required in a framework you'll want to edit the 952 field in the framework editor.
You can add a new authorized value directly from the add and edit item screen for any fields that are linked to authorized value categories such as Shelving location (subfield$c) or Collection code (subfield$8).
Start to type the authorised value description, if a match is not found you will see the option '(Select to create)'.

Click on this option to display a pop-up window where you can create you new authorized value.

The authorized value category will be pre-populated from the field you are using, for example LOC for Shelving location, CCODE for Collection code. Take care when choosing your authorized value code. Refer to the notes on adding new authorized values for the correct format of these codes. Use the Description field for the actual value that will be displayed
You can add authorized values in the same way from bibliographic and authority records.
Nota
You must have the manage_auth_values administration permission to add authorized values from cataloguing.
Below the add form there are 3 buttons for adding the item.

'Add item' will add just the one item

'Add & duplicate' will add the item and fill in a new form with the same values for you to alter

'Add multiple items' will ask how many items and will then add that number of items adding +1 to the barcode so each barcode is unique
Os exemplares que você adicionou aparecerão acima do formulário de inserção uma vez que ele forem salvos

Note

You can customize the columns of this table in the 'Table settings' section of the Administration module (table id: Items Editor).
Os seus exemplares também aparecerão abaixo dos detalhes bibliográficos na exibição do registro.

If you have SpineLabelShowPrintOnBibDetails set to 'Display' then there will also be a link to print a quick spine label next to each item.
You can also filter the contents of your holdings table by clicking the 'Activate filters' links. This will show a row at the top where you can type in any column to filter the results in the table.

Editing items
Itens podem ser editados de diversas maneiras.
Clicking 'Edit' and 'Edit items' from the bibliographic record

Which will open up a list of items where you can click the 'Actions' button to the left of the specific item you would like to edit and choose 'Edit'.

Clicking 'Edit items' beside the item on the 'Items' tab

Which will open up the editor on the item you'd like to edit

Clicking 'Edit' and then 'Edit items in batch'

This will open up the batch item modification tool where you can edit all of the items on this record as a batch.

You can also enable StaffDetailItemSelection to have checkboxes appear to the left of each item on the detail display. You can then check off the items you would like to edit and click 'Modify selected items' at the top of the list.

You can click 'Edit' to the right of each item in the Holdings tab

There is also a link to Edit items from the search results in the staff client

Finally you can use the batch item modification tool
Quick item status updates
É comum que os funcionários responsáveis pela circulação tenham que alterar o status de um material para Perdido ou Danificado. Para isto, não é necessário alterar todo o registro do exemplar. Ao invés de clicar no código de barras do exemplar na tela de resumo de empréstimo ou histórico de devoluções irá levá-lo para uma tela de resumo do exemplar. Você também pode acessar o resumo do exemplar clicando na aba Exemplares no lado esquerdo da página de detalhes do registro bibliográfico.
From this view you can mark an item lost by choosing a lost status from the pull down and clicking the 'Set status' button.
You can also mark an item as damaged by choosing a damaged status from the pull down and clicking the 'Set status' button.
Duplicating items
You can easily duplicate each item by clicking the 'Actions' button the left of each item on the edit items screen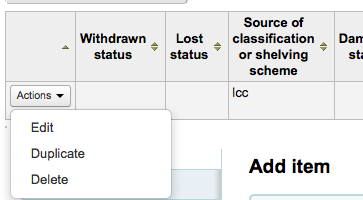 From here you can choose to 'Duplicate' the item and this will populate the form with the values from the item you chose.
Item information
To the left of every bibliographic record there is a tab to view the items.
Clicking that tab will give you basic information about the items. From here you can see basic information about the item such as the home library, item type, collection code, call number and replacement price. You can also see and edit the status information. If an item is marked lost or withdrawn you will also see the date that status was applied.
In the 'History' section you will see information about the check out history of the item and if you ordered the item via the acquisitions module then this section will include information about the order.
If the Order or Accession date is linked, clicking it will bring you to the acquisitions information for that item.
Adding cover images for items
If you have either OPACLocalCoverImages and/or LocalCoverImages set to 'Display' you can upload cover images for individual item records from the 'Upload image' option from the Edit button on the right of the Holdings table.

Click Choose file to find the image file on your computer and then Upload file.
On the next screen you are given the option to replace existing images. You can then click on Process images.
The image will display in a Cover image column in the holdings display.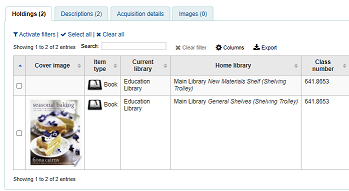 To delete an image, click on the image in the holdings display. You will see a greyed out copy of the image with the option to delete.

Moving items
Items can be moved from one bibliographic record to another using the 'Attach item' option

Visit the bibliographic record you want to attach the item to and choose 'Attach item' from the 'Edit' menu.

Simply enter the barcode for the item you want to move and click 'Submit'
If this is the last remaining item attached to a bibliographic record you will be presented with a button to delete the original host record.
If you want to move all items to a new record creating only one bibliographic record you can use the merge Records tool instead.
Deleting items
Existem muitas maneiras de excluir registros de itens. Se você quiser excluir apenas um item você pode fazê-lo abrindo a página de detalhes para o registro do clicar no botão 'Editar'. Após, clique no botão 'Editar itens'.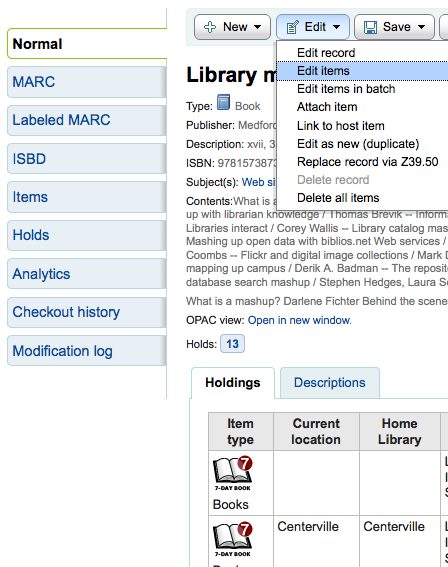 Será apresentado uma lista com exemplares e perto de cada um terá um link chamado 'Excluir'. Clique em cada link e se o item não estiver emprestado ele será excluído.

Se você tem certeza que os itens do registro não estão emprestados você pode usar a opção 'Excluir todos os itens' no Menu editar e isso removerá todos os itens do registro.
You can also enable StaffDetailItemSelection to have checkboxes appear to the left of each item on the detail display. You can then check off the items you would like to delete and click 'Delete selected items' at the top of the list.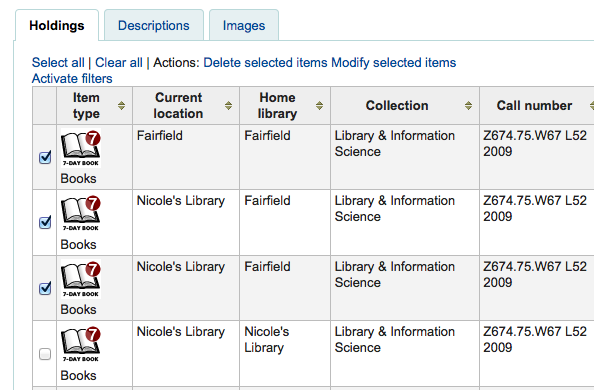 Finally you can use the batch delete tool to delete a batch of items.
Item specific circulation history
Cada registro bibliográfico mantem um histórico de circulação (com ou sem a informação de usuário de acordo com suas configurações), mas cada item também tem sua página de histórico. Para vê-la, clique na aba 'Itens'a esquerda do registro que estiver visualizando.
Abaixo do cabeçalho 'Histórico' há um link 'Ver histórico de empréstimos', clicando neste link é aberto um histórico do exemplar ligeiramente diferente do que aparece na página de histórico do registro bibliográfico.